You are here
Rev. Dr. W. Franklyn Richardson, 1990 M.A.R.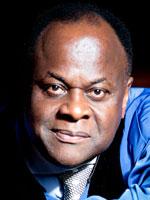 2013
Distinction in Congregational Ministry
The Rev. Dr. W. Franklyn Richardson, a full-time pastor and preacher for four and a half decades, served churches in Virginia from 1969-75 before becoming senior pastor of historic Grace Baptist Church in Mount Vernon, NY, which he still leads and has helped grow to over 4,000 members.
He was the youngest person ever elected general secretary of the eight-million-member National Baptist Convention, which he served for 12 years.  He was also a member of the Central Committee of the World Council of Churches, which represents 400 million Christians in 150 nations. 
Richardson is an internationally renowned preacher and author and has produced tri-state radio and national television programs for three decades.  He is a strong advocate for economic equity and serves on the boards of several national and international corporations and organizations.  The State of New York has honored him for his "unremitting and compassionate faith and his exemplary service to God, man, and his community."  Morehouse College in Atlanta, Georgia, inducted him into The Rev. Dr. Martin Luther King, Jr., Board of Preachers and into its International Hall of Honor celebrating "extraordinary persons…who have made significant contributions to the global nonviolent movement for civil and human rights."  Richardson also led Grace's efforts to construct over $100 million worth of affordable housing.
He is married to Inez Nunnally Richardson, and they are the parents of three adult children and the grandparents of five.