You are here
Rev. Joan Bates Forsberg, 1953 B.D.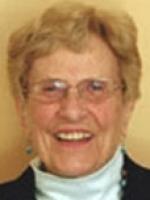 2013
Distinction in Theological Education
Throughout her life, Rev. Joan Forsberg has been a trailblazer in theological education and campus ministry.  She has led countless women into expanding roles in society while demonstrating to all what a more just and equitable society might look like. 
She was ordained by the United Church of Christ in 1954 and began her ministry in an interdenominational, interracial urban setting in Greater New Haven, Connecticut, known as Oak Street.  At Oak Street, she was part of a group ministry based in a storefront church that provided a ministry of presence and a holistic teaching that combined traditional worship services with health and wellness education. Oak Street eventually became known as Wider City Parish, which met in different locations throughout the city.
In 1967 she was hired by Dr. Parker Rossman '53 Ph.D. as program director at the Ecumenical Center for Continuing Education for Clergy at Yale, located on Saint Ronan Street in New Haven.  In 1971, as YDS began accepting women in expanding numbers, she became the YDS registrar and advisor to students and joined professors Margaret Farley and, eventually, Letty Russell as three of the early faculty women. In short time, she was named Associate Dean for Student Life, and quickly became known for her listening, pastoral ear, and for helping countless students—and especially women—consider their personal, spiritual, and career journeys. A signature role for Forsberg was as celebrant at Marquand Chapel, where she was the first woman to be seen by many students in this role, presenting a powerful and inspiring image. She has called her ministry "a bridge—a ministry to facilitate," hoping to build "communication and understanding toward the wholeness of the human family." 
She was a co-recipient in 1975 of the U.C.C.'s first Antoinette Brown Award for women who exemplify the contributions of women in ordained ministry; and in 1978 she received an honorary doctorate degree from Berkeley Divinity School.