You are here
Toshihiro Takami, 1960 B.D.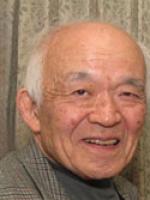 2012
William Sloane Coffin '56 Award for Peace and Justice
Toshihiro Takami is the founder of the Asian Rural Institute (ARI) in Japan.  Takami's childhood was spent in Manchuria before his family returned home to Miyazu, a fishing village on the Japan Sea coast.  At the age of 12, he was sent to a Zen monastery in Kyoto to obtain his secondary education.  At 18, just months before the end of WWII, he enlisted in the Japanese Navy and briefly attended radar school.
After the war he bought fish locally, traveled to Kyoto and Osaka to sell it, bought clothing and processed goods there, which he sold back at home to be able to buy more fish the next day.  Three years later, he found work as a cook at the home of an American missionary in Kobe, whose quiet and trusting influence encouraged him to study Christianity and eventually be baptized.  Albert Faurot, his employer, arranged a scholarship for him to attend Doane College, Crete, Nebraska.
Following a year spent with family in Japan after college, he entered Yale Divinity School and after graduation was ordained in the First Congregational Church of Crete, Nebraska.  Takami worked for a year at an urban church before learning of the Rural Leaders' Training Course at Tsurukawa Rural Seminary in western Tokyo.  He followed his heart there, thinking he would study more.  Instead, he discovered he had been given a faculty position.
The November, 1970, cyclone in Bangladesh—the largest in recorded history and which claimed 500,000 lives—wreaked havoc on a country on the verge of independence.  Eighteen months later, Takami led a group of 50 Japanese and American youth volunteers to help famers recovering from the devastation of their fields and homes.  Discerning a dearth of capable and committed local leaders, he determined to establish an institute dedicated to providing them training and skills to increase their capacity to serve their people.  In 1973, he founded the Asian Rural Institute (ARI) in a valley surrounded by the Nasu Mountains of Tochigi Prefecture.
ARI is an international training ground for grassroots rural leaders. Each year ARI conducts a nine-month Rural Leaders Training Program on sustainable agriculture, community development, and leadership. Upon completion, program participants return to their home villages and communities to work side-by-side with their people, pass on their learning, and promote development from within. To date, ARI has trained 1,130 rural leaders from 51 countries throughout Asia, Africa, and the Pacific.