You are here
Will D. Campbell, 1952 B.D.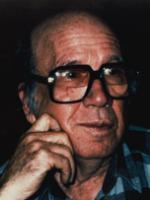 2007
William Sloane Coffin '56 Award for Peace and Justice
Will D. Campbell has been called a "renegade preacher," "civil rights legend," "iconoclastic storyteller," "anti-institutional crusader," "hardscrabble farmer," "radical prophet of the South," "Redneck Preacher" and more... The tobacco-chewing, cowboy-booted author of the highly acclaimed memoir Brother to a Dragonfly calls himself a "bootleg preacher." He is the model for the Rev. Will B. Dunn, the voice of wisdom in the late political cartoonist Doug Marlette's comic strip "Kudzu."
Born to a poor cotton-farming family in Amite County, Mississippi, Campbell was brought up in the segregated South and ordained a Southern Baptist minister at the age of 17. He developed a strong hatred for racial discrimination of any stripe, and opposition to racism became a focal point of his life's work over a career spanning more than six decades. Upon graduation from Yale Divinity School, Campbell became pastor of the Taylor Southern Baptist Church in Taylor, LA and then was named director of religious life and chaplain at the University of Mississippi. In 1956 he took over leadership of the Southern Project in the Department of Racial and Cultural Relations of the National Council of Churches. From 1962-86 he was executive director of the Committee of Southern Churchmen.
He was among only four white ministers to escort nine African American students through angry mobs during school desegregation in Little Rock, Arkansas, and he was the only white person present at the formation of the Southern Christian Leadership Conference. However, he also ministered to members of the Ku Klux Klan and made a prison visit to James Earl Ray, the convicted assassin of his colleague and friend Martin Luther King, Jr.
Campbell is a prolific author who has written 17 books in addition to numerous articles in journals and magazines. His first book, published in 1962, was Race and the Renewal of the Church. His 1977 book Brother to a Dragonfly, which chronicles the civil rights movement, was a National Book Award finalist. President Clinton honored Campbell with a Presidential Humanities Medal in 2000, and he has been given lifetime achievement awards from the American Civil Liberties Union of Tennessee and the Tennessee chapter of the National Conference of Christians and Jews.
He and his wife, Brenda, live on a 20-acre farm. Much of his time is spent holding forth in his favorite hangout, a country tavern in Mount Juliet.
The holder of numerous honorary degrees, Campbell earned his B.A. from Wake Forest and did post-graduate studies at Tulane.