Time: 2:00 P.M. Thursday, April 20, 2023 - 12:30 P.M. Friday, April 21, 2023
Location: Old Refectory, Yale Divinity School, 409 Prospect Street, New Haven, CT 06511
Contact: neil.arner@nd.edu
This conference is celebrating the publication of the third volume by John Hare in a series devoted to the intersection of two fields: Theology about the Trinity and Moral Theory. The first two volumes focused on the work of the first two Persons. The third volume (Unity and the Holy Spirit) is about the Spirit's work in the world. The conference also celebrates John Hare's retirement from YDS, and is part of the celebration of 200 years of YDS. There will be three papers on Thursday afternoon April 20th, and three on Friday morning, April 21st. The conference is open to the public, but registration is required. Registered participants will receive access to the papers in advance. They will not be read aloud at the conference but will be summarized, responded to, and then discussed by those in attendance. The proceedings will be recorded and available after the event.  
Schedule
Thursday, April 20
Friday, April 21
Schedule updated April 20, 2023
---
Driving and Parking
The Yale Divinity School street address is 409 Prospect Street, New Haven, CT.
From I-95 North or South, take I-91 towards New Haven.
Take Exit #3, Trumbull Street. 
At the end of the ramp, continue straight on Trumbull Street for four blocks.
Turn right onto Prospect Street.
The Divinity School is about three-quarters of a mile on the right.
Turn into the driveway between the two stone columns to drive to the main entrance which faces Parking Lot 11.

Please note that you may drop off passengers at the main entrance, but parking will not be available on campus. You are encouraged to park on the surrounding streets. See more information below.
PARKING AT YDS
To drop off passengers, turn right into the driveway (between the two stone columns) and continue a few yards up the embankment.  The gated parking lot will be on your left across from the main entrance to YDS on your right. Parking on campus is only available after 4:00 p.m. You are encourage to park on the streets near campus.
On-street parking can be found on Prospect Street in front of the Celantano Elementary School, and on Division and Canner Streets. Pay attention to signs indicating parking rules and street sweeping. 
Available street and campus parking is indicated in blue on the map below.
If you require handicapped parking, please email campbell.harmon@yale.edu by no later than Monday, April 17 so arrangements can be made.
Click on the map to open a larger image.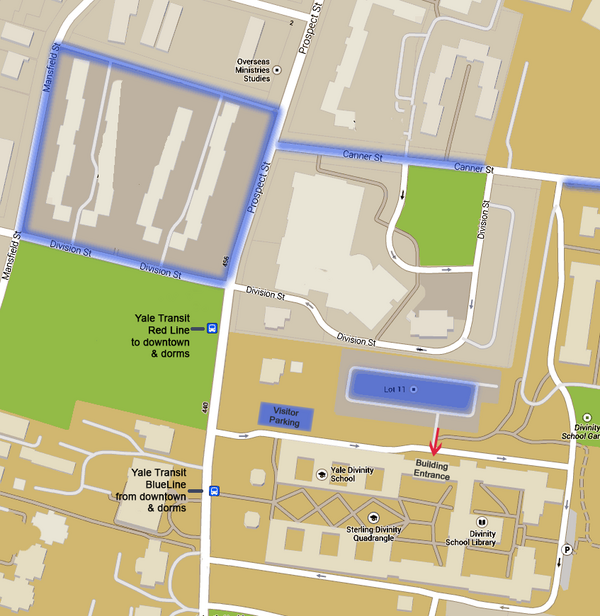 Parking map is adapted from Google Maps.
–Last updated April 12, 2023