By Pressley Peters
Buoyed by a 10 percent increase in donors, YDS raised the largest amount ever for the Annual Fund in the 2021-22 fiscal year. Generous support by alums boosted YDS into the Top Two among Yale graduate and professional schools in alumni participation, with nearly a quarter of alums giving to the Annual Fund.
Through their support of scholarship funds, YDS donors achieved another landmark success: In the new academic year, YDS is able to meet 100 percent of aided students' demonstrated tuition need and provide stipends to cover some living expenses. The achievement helps free students to pursue their callings without overbearing debt and other financial burdens.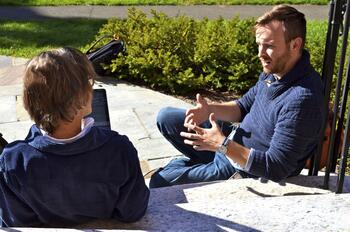 "Our donors can feel a sense of accomplishment, knowing they have made a very real difference in the lives of students present and future," YDS Dean Greg Sterling said. "I am grateful for the strong support from our alums, whose giving clearly reflects their own gratitude for their formative experiences here. Every donor makes a positive, indelible mark on the world through our graduates. They have our deepest appreciation."
Gifts to the YDS Annual Fund for 2021-22 totaled $694,316, dramatically exceeding the $650,000 goal and a previous all-time high of $658,483, set in 2018-19.
Twelve new scholarships were established during the 2021-22 fiscal year including one to honor Rena Karefa-Smart '45 B.D., the first Black woman to graduate from YDS. A second honors the late Letty Russell and her wife, Rev. Shannon Clarkson '78 M.Div. Russell was a pioneering feminist theologian who served on the faculty from 1974 to 2001. Also, in an effort to enable students to follow their dreams toward social justice work, mother and son Jean Wood '64 M.A.R. and Chris Wood '90 B.A. pledged $250,000 to support one of 10 new annual social justice scholarships.
Two new scholarships honor pioneering YDS women: Read more.
Donor support has also paved the way for construction of the first phase of the Living Village, the Divinity School's sustainable student residential hall designed to meet the rigorous standards of the Living Building Challenge. Fundraising success and final approval by the Yale Corporation positioned YDS to announce groundbreaking for 2023.*
Of special note was a fundraising effort by the Class of 1971 in honor of its 50th reunion. Class members increased their Annual Fund giving total and contributed a combined $84,050 for a class scholarship fund, yielding an additional match from the Dean's Scholarship Challenge Fund.  
"We are thrilled that our alumni giving continues to grow and are equally grateful to all the friends who support our School with annual contributions and endowed scholarships," said Barbara Sabia, Senior Director of Alumni Engagement and Development. "Their impact shines brightly in the amazing achievements of our students and alums."
This fall, YDS launches an ambitious fundraising campaign, "We Are Called," to strengthen its ability to serve humanity through academic, moral, and religious leadership. Learn more and watch the campaign video.
---
*Editor's note: This article was updated January 4, 2023 to reflect a change in the construction schedule.