Kristin M. Foster, '77 M.Div.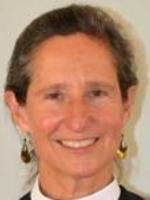 Kristin Foster, M. Div. 1977, senior pastor of Messiah Lutheran Church in Mountain Iron, Minnesota, leads a dynamic congregation in a rural-industrial-wilderness area of Minnesota.  In her twenty-three years there, she and they have spawned numerous collaborative community and educational ventures, including the Summer Work Outreach Project for 11 to 14 year old youth, the Iron Range Immersion (a cross-cultural immersion program with Luther Seminary), a fifteen year seminary internship program" the Iron Range Earth Fest and the Iron Range Partnership for Sustainability.   After losing its building to fire in a lightning strike in 1998, Messiah relocated and rebuilt with an eye to becoming a beacon of hope to the area.   This led them to adopt a welcome statement inclusive of people whatever their sexual orientation, gender identity, family situation, religious background (etcetera).  This year they called Ellen Taube as assistant pastor, the first pastor in northern Minnesota to be reinstated to the clergy roster of the ELCA after being removed because of being in a committed, life-long same sex partnership.  
Kristin's husband of 35 years Frank Davis, M. Div. 1977, is an ordained Presbyterian minister with a private psychotherapy practice in Duluth.  Together they have two young adult daughters, Tyler, age 27, who recently married and is teaching in a Montessori school in Minneapolis, and Emily, 21, who is in her senior year at Macalester College and interested in medical school.