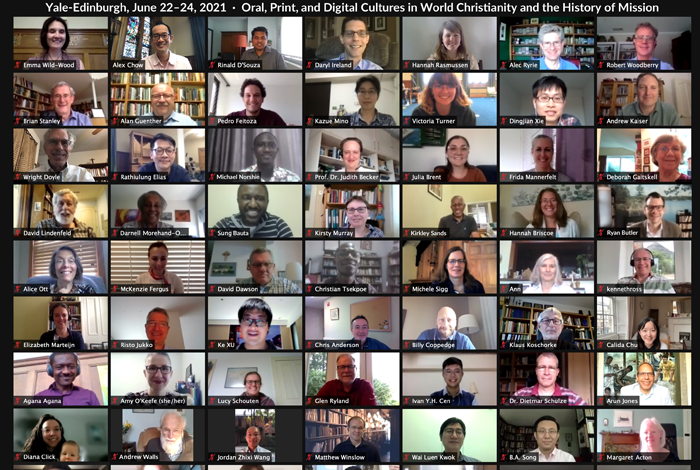 Yale-Edinburgh Group
Founded in 1992 to study the development of world Christianity
Yale-Edinburgh Group on World Christianity and the History of Mission
The Yale-Edinburgh Group is an informal group of scholars founded in 1992 by Andrew Walls of the University of Edinburgh and Lamin Sanneh of Yale University. The Group's conferences and LISTSERV facilitate discussion and exchange of information about the development of world Christianity and historical aspects of mission, with special emphasis on the sources for documentation. The conferences are sponsored by the Centre for the Study of World Christianity at the University of Edinburgh and the Yale Divinity School.
For more information, contact:
Martha Smalley
Yale Divinity Library
409 Prospect Street
New Haven, CT 06511
(203) 432-5289
martha.smalley@yale.edu
---
2022 Meeting
Yale-Edinburgh Group Conference, 28-30 June 2022
World Christianity: Legacy and the State of the Field
The 2022 Yale-Edinburgh conference will offer a tribute to Andrew Walls and Lamin Sanneh, co-founders of the conference thirty years ago, as it engages with their legacy. This will be both retrospect and prospect. What have we learnt from Walls, Sanneh and their generation? In what ways has their legacy imposed limitations on the field, and in what ways do we need critically to consider new approaches to the study World Christianity? How have the approach, methods, and parameters of the study of World Christianity developed in recent years? For example, panels might consider the nature of translation as a predicate of the expansion of Christianity, as well as exploring new avenues of recent scholarship in World Christianity, such as the role of migration or theological evolution in mission, or the de-territorializing of Christian faith in the development of global Christianity. 
In light of continuing uncertainty over the feasibility of international travel, the 2022 conference will be trialing a new format. This will combine in-person and online panels at Yale Divinity School in New Haven, CT, with "hub" panels in Edinburgh, Ghana, Kenya and Singapore. The conference timetable will allow participants to attend panels in multiple locations online. If travel conditions allow, a small number of bursaries will be available as usual for participants who wish to use Day Mission library resources and attend New Haven panels in person.
---
Past Meetings