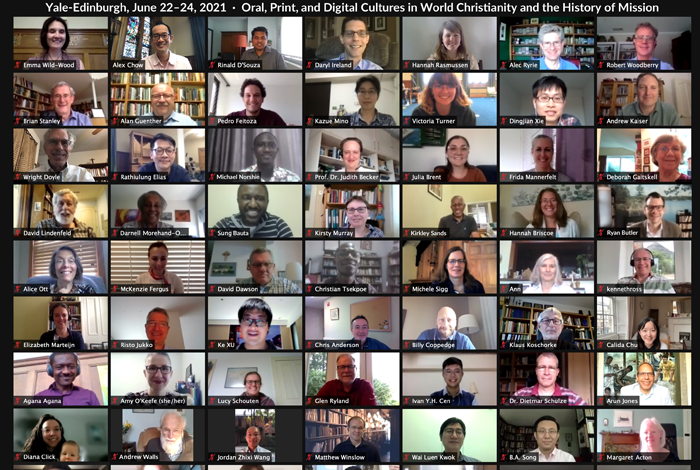 Yale-Edinburgh Group
Founded in 1992 to study the development of world Christianity
Yale-Edinburgh Group on World Christianity and the History of Mission
The Yale-Edinburgh Group is an informal group of scholars founded in 1992 by Andrew Walls of the University of Edinburgh and Lamin Sanneh of Yale University. The Group's conferences and LISTSERV facilitate discussion and exchange of information about the development of world Christianity and historical aspects of mission, with special emphasis on the sources for documentation. The conferences are sponsored by the Centre for the Study of World Christianity at the University of Edinburgh and the Yale Divinity School.
For more information, contact:
Martha Smalley
Yale Divinity Library
409 Prospect Street
New Haven, CT 06511
(203) 432-5289
martha.smalley@yale.edu
---
2022 Meeting
The 2022 Yale-Edinburgh Group annual meeting will be held June 28-30.  Please save the dates. We anticipate that the conference will be a hybrid event, with both onsite participation at the Yale Divinity School and remote video opportunities. The theme for the 2022 meeting will focus on the legacies of our founders Andrew Walls and Lamin Sanneh. A statement on the theme will be posted on this page and on the Yale-Edinburgh Group email list soon and the call for proposals will go out in January. 
---
August 13, 2021
The following tribute for Dr. Andrew Walls was sent to the Yale-Edinburgh Group email list by Dr. Brian Stanley on August 13, 2021:
Andrew Finlay Walls (1928-2021)
Photo © Overseas Ministries Study Center
Dear friends and colleagues,I have t
o inform you that we have lost our great friend, academic mentor, and joint founding father of the Yale-Edinburgh Group, Andrew Walls.  He died in hospital in Aberdeen yesterday, aged 93, following a period of hospitalization.   Although such news always comes as a shock, some of us who had the privilege of hearing and seeing him online at the end of the Yale-Edinburgh Conference in June had a sense that his days were at last drawing to a close.
In a brief notice such as this, it is impossible to capture the extraordinary richness of his long life, a life that was devoted to Africa, the world church, to his many graduate students, and to his collaborators in his multiple scholarly enterprises in the history of missions and world Christianity.  There are many of us who can testify that it was Andrew who first gave us our vision for the work of chronicling, documenting and interpreting the transformation of Christianity from its apparent status as a European-dominated religion to a faith that now finds its most vibrant expressions in the global south and in migrant churches in the northern hemisphere.  He will be especially missed by those who studied under him in Aberdeen, Edinburgh, Liverpool, Princeton, at the Akrofi-Christaller Institute in Ghana, elsewhere in Africa, and also at the Overseas Ministries Study Center in its then home in New Haven. We will remember him for those amazing lectures, rich in thematic texture and biographical detail, latterly read with considerable difficulty as Andrew's sight deteriorated.  We will remember him for his penetrating articles, covering a vast range of topics from every continent and strand of Christian tradition.  We will remember him for his deep Christian faith, expressed through a life-long attachment to Methodism, but with sympathies that extended to those of every denomination and none.  Above all, we have lost a companion on the journey, and a friend, faithful, modest, and witty.
Many of us will wish to share our own memories and sense of indebtedness to Andrew.  An obituary will appear in the International Bulletin of Mission Research in the October 2021 issue, and no doubt there will be many more in other publications.
Our deepest sympathies go to Andrew's wife Ingrid, known to many of us, his daughter Christine, son Andrew junior, and granddaughter Alice.  
This is a very sad day, but I would suggest also a day for great thanksgiving that Andrew was preserved for us for so long.  Thanks be to God for a faithful servant.
Greetings to all,
Brian
2021 Meeting
The next meeting of the Yale-Edinburgh Group on World Christianity and the History of Mission is to take place on-line, from New College, University of Edinburgh, from 22-24 June 2021. More information about the on-line format will be provided later.
We anticipate that the on-line format will increase the number of paper proposals that are submitted. Yet we will also be working with a condensed time schedule due to the multiple time zones we will be spanning. We will prioritise early career scholars and offer two options for paper presentations: (1) a short oral presentation in real time (15min + Q&A time) and (2) a presentation in the form of a pre-recorded 3 min video with a single slide.
When submitting an abstract please ensure that:
it is close to the theme of the conference,

you state the year you gained your PhD, or your student status

your preference for short oral presentation or pre-recorded 3 min video. Depending on demand, you may not be offered your first choice.
The theme of the meeting is the same as that of the cancelled 2020 conference.
Abstracts should be submitted by 20th March 2021 to cswc-events@ed.ac.uk
Alex Chow and Emma Wild-Wood
Co-Directors of Centre for the Study of World Christianity, Edinburgh
To register for the 2021 conference: Yale-Edinburgh Group on World Christianity and the History of Mission Annual Meeting | University of Edinburgh
Theme
Oral, Print, and Digital Cultures in World Christianity and the History of Mission
Studies in world Christianity and the history of mission have not been afraid to engage the topic of culture. However, they have mostly referred to the encounters of Western Christian cultures with another, whether that be Confucian and Hindu culture, or the indigenous cultures of the Americas, Africa, and Oceania. This year's theme uses the language of culture to speak about three different mediums in which the Christian message is communicated and the Christian life is practiced. These cultures have developed somewhat chronologically, but they also simultaneously coexist in the contemporary world.
Oral culture is a vivid dimension of Christian expression, from the psalms of David to the sermons of Jesus and the prayers of the saints. Methodist missionaries, following the legacy of the Wesley brothers, readily preached and sang their faith. Christian hymnody has found local expression, be it in African American spirituals or ghazals and bhajans in India. Prophecy and glossolalia are often regarded by Pentecostals and charismatics as indicators of the faith. Christ's passion has been recalled in the Philippines through the indigenized form of the pasyón epic, whereas apparitions of the Virgin in Guadalupe and La Vang and of Saint George in Palestine have been vehicles to narrate the faith.
Print culture has also been an important medium for Christianity. Missionaries used print to propagate their message with vernacular Bibles and hymnbooks, catechisms and apologetic tracts. The widespread translation and dissemination of The Pilgrim's Progress has globalized seventeenth-century Puritan Christianity and provided a narrative for expressing local virtues. The Western printing press, introduced by missionaries to Shanghai, helped transform the treaty port into a major hub of print capitalism. Christian magazines and lantern slides were used to convey images of distant peoples to sending churches and mobilize publics against slavery and opium, whereas vernacular novels, short stories, and periodicals have contributed to the formation of independent nation-states and to unify diasporic populations.
As we have entered the digital age, the growing digital culture has opened up new vistas for world Christianity and the history of mission. New methods have been created to engage our subject, from the digitization of archives to the visualization of missionary populations on maps alongside centers of political and religious power. Digital technologies have opened up new possibilities for mission across borders, Christian public engagement over social media, and connecting Christian migrants around the globe. Yet Christian online activities have also been curtailed by forms of state censorship such as the Great Firewall of China. Digital media also exposes hierarchies of resourcing, showing which Christian communities have access to the technological infrastructure for a vibrant online presence and which communities are marginalized by their poverty or lack of expertise.
Oral, print, and digital cultures may transcend societies, but they find unique expressions throughout world Christianity and the history of mission. We anticipate our conference will open up a lively interdisciplinary conversation among historians, theologians, and social scientists studying religion, as well as to include scholars of other disciplines, such as media studies and digital humanities.
---
Past Meetings